Poly (formerly Plantronics) headsets are arguably the best on the market. Many of their headsets are multi-functional meaning they can connect to more than one device i.e. your desk phone, mobile device and computer.
For business professionals that travel or are in their cars a lot its important that they are connected with their clients and employees at all times and that their hands are free either to drive, look at files, or simply walk around their office. For these professionals having to switch from their Bluetooth headsets while in their car to their headset while in their office can be annoying and/or frustrating.
Poly have thought about this problem and have created a simply yet elegant solution, the Voyager 5200 Office Bluetooth Headset 2-Way Base.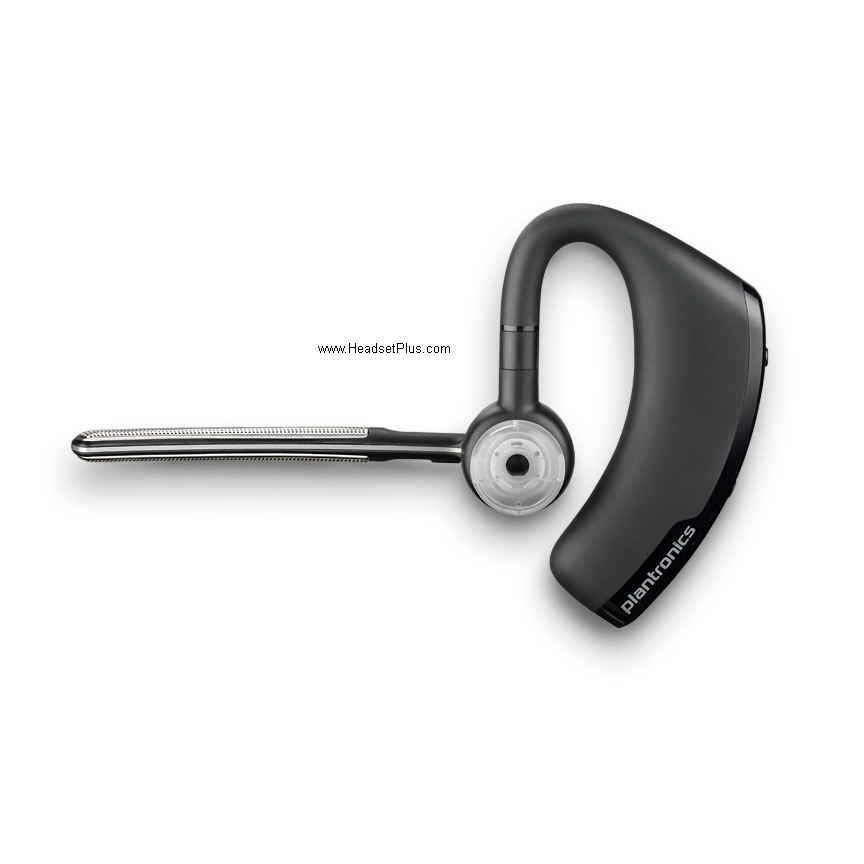 This headset has the ability to connect to both a desk phone, computer  and a Bluetooth capable cellphone. This headset is not only unique in that it connects to both devices it is also enables the user to take it with them into the car and drive away. No other headset within Poly vast arsenal will allow the user to take it with them when they want to leave the office and still use it with their cellphone.
Poly Voyager 4245 Office Convertible Bluetooth Headset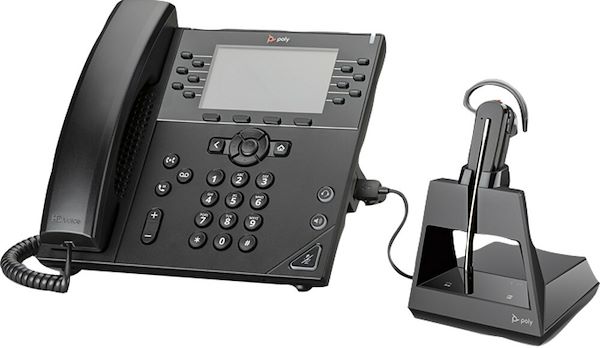 Another new headset that allows you to use it with multiple devices, the 4245 headset will resemble familiar for some people as it is the same design of the classic CS540 from Plantronics, however this is a Bluetooth Class1 headset and this allows you to take it out of the office and keep using it with your smart phone or tablet. The 4245 comes with 3 different wearing styles and comes with an additional battery and charger as you can keep using it out of the office. Get yours HERE.
Poly Voyager Focus 2 Office USB-A Bluetooth Stereo Headset (staff favoarite)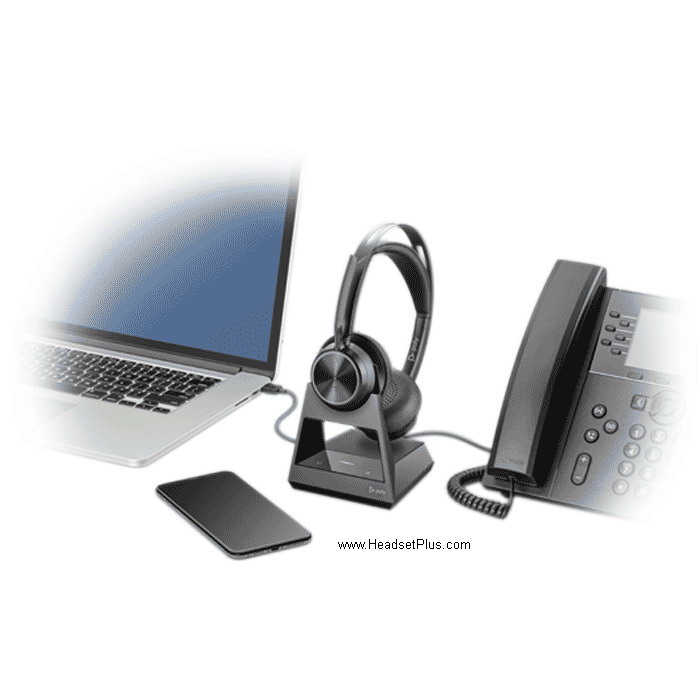 The Focus 2 Office is an alternative for those loudly environments as it comes with Digital Hybrid Active Noise, the mic boom arm comes with Acoustic Fence Technology that blocks as loud noises as vacuum cleaners as lawn mowers. Perfect solution for remote workers that wants the best sound quality and the best comfortable wearing style without compromising performance. Order yours HERE.
Poly Voyager Office Base for 4300 UC. Voyager Focus 2 + Poly Voyager 4310 UC Bluetooth Mono USB-A Headset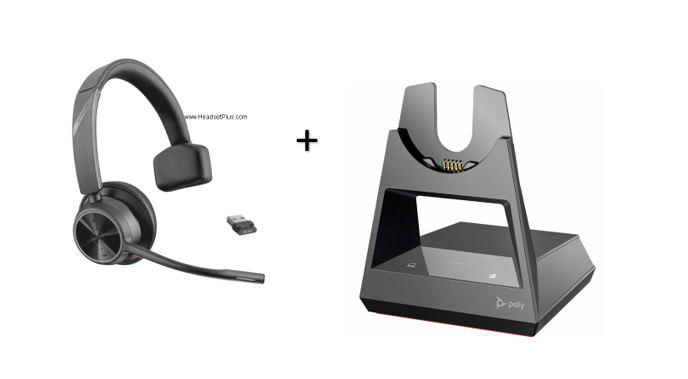 Poly now offers a new way how to customize your Voyager 4300 series headsets, either the 4310 or the 4320. The new 4300 Office Base lets you to use your 4300 series UC headset with virtually any desk phone as long as you have a corded handset. You can even use the base to plug it to your computer and take your Voyager 4300 series headset out the office and keep using it with your smart phone or tablet. The 4300 Office Base works as a range booster if you use your 4300 series headset with your computer, as it takes the place of the BT700 dongle and offers further range. You need to pair your base to your headset with just 3 simple steps. Get your 4310 HERE and your Base HERE.
Jabra Pro 925 Dual Connectivity Bluetooth Headset 925-15-508-205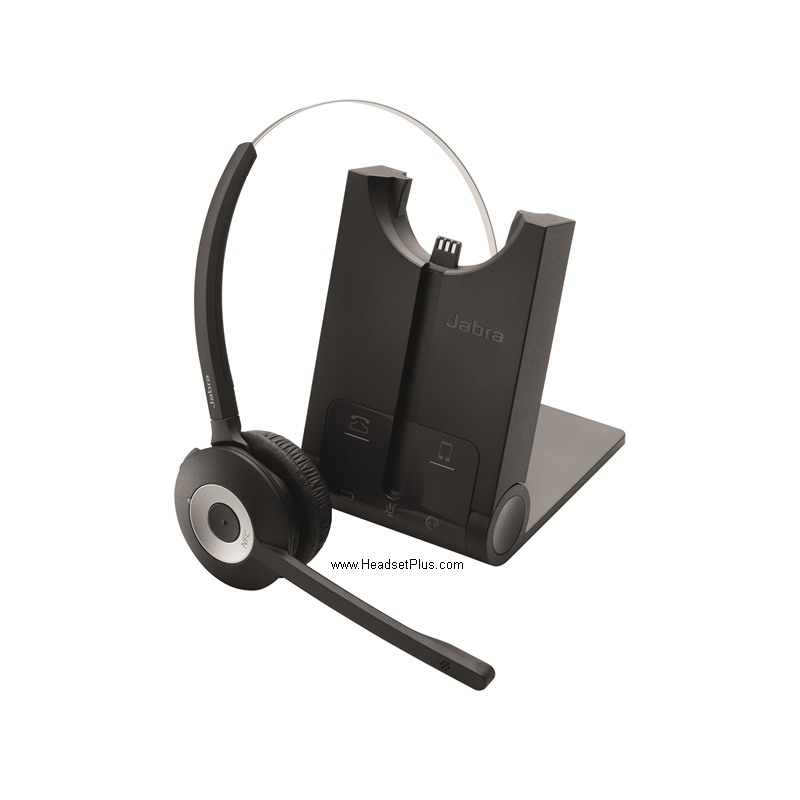 Jabra offers its Pro 925 headset in a well known design by Jabra, with a range of up to 300 feet allowing the user to use it with the desk phone and with the cell phone and take the headset out of the office. A nice talk time of up to 12 hours makes the 925 one of the favorites for working either at the office or on the go. The Pro 925 offers Near Field Communication Technology (NFC), that makes it easier to pair with smart phones or tablet or even devices with NFC. Gets your HERE.
On all these examples the headset works as a communication device for your work time , and as streaming devices for your relax time as you can still play music or stream videos from your smart phone or tablet without compromising sound quality.
For more information contact Jeremy at jeremy@headsetplus.com or call 1-877-999-3838 
www.headsetplus.com
creditSource link