CFexpress has finally come into its own and multiple companies are now producing a wide variety of capacities at a range of prices. But with so many choices, which one should you buy?
---
Updated on 8/26/2022 by Jaron Schneider: Added results from testing the Lexar Diamond Series card.
---
CFexpress Type B is, right now, the most common "next generation" memory card format and has all but totally won out over the SD Association's flawed SD Express format despite its lofty promises. While CFexpress Type A is also coming into its own, only Sony is using the format in its mirrorless cameras and at the time of publication, only three companies are producing that card format.
When more are available, this guide will grow to include CFexpress Type A as well but, for now, the two options from ProGrade Digital and Sony perform basically identically. PetaPixel has not received Delkin's option to test.
Every other camera company besides Sony that has updated to the latest and greatest memory card format is using Type B, and as such there are a lot more options in the marketplace.
But all that performance comes at a literal cost: CFexpress Type B cards can get pretty expensive. To save you the wallet-ache of making a bad decision, we've created a rigorous multi-stage test to put CFexpress cards through the wringer and help you make the best buying decisions.
Below is a list of all the CFexpress Type B cards included in our testing:
PetaPixel will update these results periodically as we obtain more cards, so make sure to bookmark this story and check back when you're ready to make a purchase.
The Tests
To evaluate which cards performed best, we subjected each to a series of tests. In the case where a card manufacturer also supplies a card reader, we used paired those products together. If a company did not provide PetaPixel with a reader, tests were performed on the ProGrade Digital CFexpress Type B and SD UHS-II dual card reader.
First, we tested the cards with Blackmagic Speed Test to get numbers for the average peak read and write speeds that can be expected when loading and unloading data to a computer. We then filled the cards at more than three-quarters of each of their capacities and tested the speed again to make sure that adding data to the cards does not affect performance. These tests provide us with a baseline level of performance to expect.
The second test goes beyond peak speeds and looks at sustained speeds, which are a lot harder for memory card manufacturers to hit consistently high numbers. These tests are performed with HD Tune, one of a few industry-standard benchmarks for measuring memory performance, and are shown as an average of read and write speed performance, referred to as transfer speed.
In the third test, we put all the cards in a Canon EOS R5 and asked it to record at 8K RAW for as long as it could. The R5 will overheat after about 20 minutes of recording at this resolution, so if the card is able to continuously log that data for that whole time without dropping visible frames, we logged it as a "PASS." Basically, if the card is able to record for as long as the camera is able to send it data, it would be unlikely that a photographer or videographer would find any issue with the cards in the field.
The final test is the most relevant for photographers. We tested how many seconds we could fire a Canon R5 at maximum framerate and resolution before we hit the limits of the buffer. We asked the camera to record both RAW and the highest quality JPEG to load it with the most amount of data. This test was performed three times and the results were averaged.
The Results
Disk Speed Tests
In this test, higher is better. Top performers here go to Sony, Lexar, and Exascend based on both the peaks of both read and write performance, although there were multiple cards that performed really well. Acer, OWC's Atlas Pro, and Prograde's Gold series cards performed the worst here, but with speeds that are by no means "bad."
Sustained Disk Speed Tests
In this test, higher is better and four brands stood out: SanDisk Extreme Pro, ProGrade Digital Cobalt, Sony TOUGH, Lexar, Exascend Nitro, and Delkin Black Series. ProGrade's Cobalt card tested the highest sustained speed, with Sony's TOUGH card close behind. Acer scored the worst here as the divide between its best and worst transfer speeds during the benchmark was very wide.
EOS R5 8K RAW Video Record Test Results:
SanDisk Extreme Pro

PASS

ProGrade Digital Gold

PASS

ProGrade Digital Cobalt

PASS

Acer

PASS

Angelbird AV PRO

PASS

Delkin Devices Black Series

PASS

Sony TOUGH

PASS

Exascend Nitro

PASS

Pro Master Pro Velocity Cine

PASS

OWC Atlas Pro

PASS

OWC Atlas Pro Ultra

PASS

Lexar Diamond Series

PASS
We have not yet tested a CFexpress Type B card that is unable to keep up with the Canon R5's 8K RAW recording requirements. In all cases, the R5 overheated before a memory card failed.
Burst Photo Test
In this test, higher is better. While multiple cards were in close contention around 19 seconds, Lexar's Diamond Series was able to write a Canon R5's highest burst photo speed (both JPEG and RAW) much longer than any other card for over 30 seconds. This handily beats all others.
Insights, Takeaways, and Recommendations
This might be a good time to mention why the speeds we saw in testing are nowhere near the speeds any of the companies put on the packaging. Just about every CFexpress card promises read speeds at or above 1,700 MB/s, but the best we saw didn't even get to 900 MB/s peak speeds and sustained speeds were much lower.
This is because those peak speeds were most likely obtained in laboratory environments with the SSD bus plugged directly into a host PC. While this will give the absolute maximum performance the silicon is able to produce, it's also not anything close to a real-world situation. Our tests aim to give you a better idea of what to actually expect.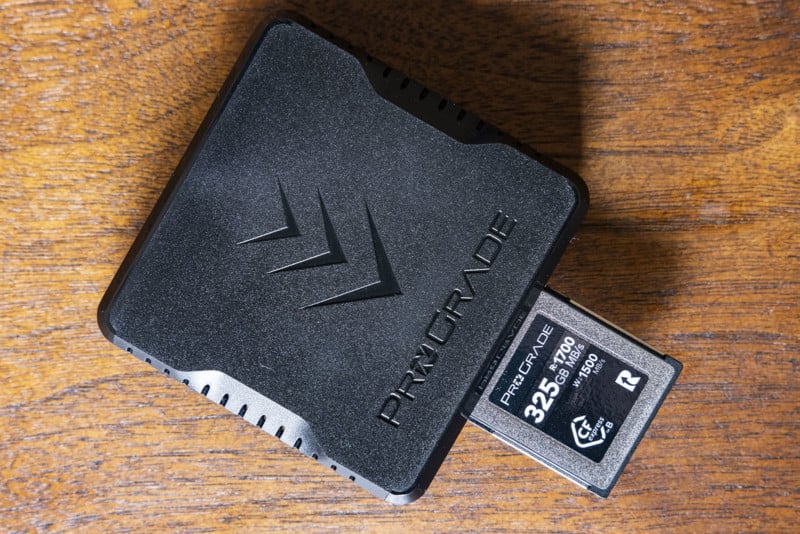 Video Performance
Let's get to the good news: every card we tested worked to our satisfaction when it comes to recording high-resolution video data. Every card, regardless of the speeds promised, was able to ingest 8K RAW video footage until the camera overheated, which means it's highly unlikely that anyone would run into any issues with the cards when shooting in the field — the camera will fail before the card does.
Even if a card doesn't even come close to the promised peak read or write speeds seen on the side of the box (which none of them did, by the way), it doesn't matter. For video, Acer, which promised the least when it comes to read and write speeds, performed identically to Angelbird which promised the most.
A majority of the cards we tested were able to sustain more than 400 MB/s transfer speeds, with only ProGrade Digital's Gold series and Acer falling below that threshold. The only card we tested that has the Compact Flash Association's VPG400 certification — which requires 400 MB/s sustained speeds — was Exascend's Nitro cards, although despite this they aren't the ones holding the highest sustained transfer speeds: that goes to Prograde's Cobalt line and Sony's TOUGH cards. So while AngelBird promises some seriously high sustained speeds on its website and in marketing materials, we weren't able to replicate them using industry-standard software.
That said, there may be a reason for that. Angelbird is extremely nitpicky about which cards are designed for which cameras which could mean that it does have some kind of special tuning to work with cameras better than with computer software. This seems like a stretch, but we have no way to tell.
For the most part, these cards were all pretty consistent in their performance during our benchmarking with the exception of Acer and Atlas Pro, both of which were a lot more frenetic in how much they jumped from high speeds to low speeds during testing, which gives us pause recommending either for video workflows.
Photo Performance
Some brands separated themselves from the pack in the photography section, however, and there are clear winners and losers when it comes to long periods of burst photo performance.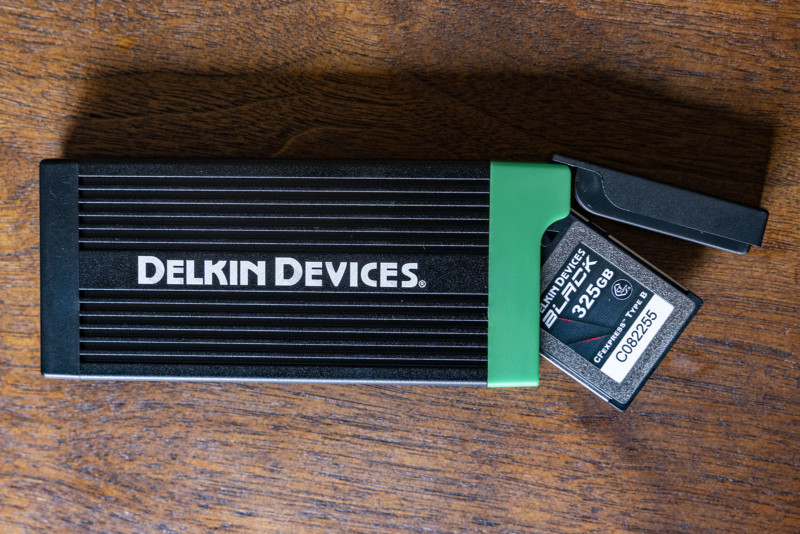 Clearly Lexar was the winner here and nearly doubled most of the amount of time other cards could write both JPEGs and RAWs at the R5's maximum burst speed. That's very impressive, and while we recognize that it is very rare for a photographer to need to fire continuously that long without taking any breaks and it is more likely to fire in bursts of five to seven seconds with a few seconds of inactivity in between, we can't ignore these results.
If you are strictly a photographer who needs the ultimate burst photo performance, the Lexar Diamond Series is the best choice, and it's not close.
The Best Options
Overall, of the cards that we tested, we recommend going with Sony's TOUGH, Lexar's Diamond Series, Exascend's Nitro, SanDisk's Extreme Pro, Angelbird's AV PRO, ProGrade Digital's Cobalt series, or Delkin's Black Series. These cards posted excellent performance in both video and photo testing as well as our computer-based benchmarking. You will be safe to pick up any of these, so shop for what is on sale — unless you care about ultimate burst photo performance, in which case we recommend the Lexar card.
I will say that while the Exascend Nitro memory card performed very well, the company's 20Gbps card reader is super loud. While it doesn't seem to have any bearing on performance, the reader itself has active cooling that creates a whopping 65 decibels of noise. If any card is plugged into the reader, it screeches at a high pitch that is incredibly annoying. No other reader we tested does this, and it didn't perform any better than our ProGrade Digital standard testing reader in exchange for all that racket.
Update: Exascend says that the card reader is purpose-designed to deliver transfer speeds of up to 20 Gb/s, making its built-in fan a necessity for effective cooling. However, to realize that speed, it requires that the user's computer system also supports USB 3.2 Gen 2 x2 transfers. That's not common right now, but the company says the design future-proofs the reader.
Of all the available cards, if capacity is your biggest concern, Angelbird is probably the best bet since it currently is the only brand to offer a whopping 4TB in a single card. But if you force our hand and make us declare one overall winner…
The Best CFexpress Type B Card in 2022
If you are looking to buy the best card with the most reliable performance, then we recommend the Sony TOUGH card unless you are strictly a photographer looking for the best burst photo performance (in that case, go with the Lexar's Diamond Series). While the Sony TOUGH card does not post the highest marks in all categories, it brought the most consistent read and write peaks and some of the best sustained performance among all the cards.
PetaPixel's Choice: Sony TOUGH CFexpress Type B memory card.
creditSource link