When Google launches an A-series phone, it inevitably trickles down some of its photography prowess to its one mid-range shooter. The Pixel 6a joins the family and comes with a lot of familiarities relative to other Pixel phones.
It's not just how it looks, but also how it works, and the synergy extends to the camera — but only to a point. Google held back some of its more complex tools for the Pixel 6 and 6 Pro, yet added a new one that, at least for now, is exclusive to the 6a.
This is the phone that appeals to tighter budgets with its $449 price tag, as well as to anyone who doesn't want or need all the bells and whistles. The camera still plays a leading role to present the bang-for-your-buck tenet that makes the Pixel 6a appealing, so long as you accept compromises along the way.
Design and Build
Google's design language for the Pixel 6 flagships ushered in a new look and feel that continues with this device. Given few markets even saw the Pixel 5a, the Pixel 6a is actually the "A" sequel for everyone outside the U.S. and Japan.
The most obvious design trait is the strip housing the rear camera array, although it's worth noting that its edges don't protrude out as far as the other Pixel 6 phones. Cases can protect the strip easier because the lips can stick out enough to create a bumper that keeps the lenses safe. I always advise putting a case on any phone, but even when they're mid-range models, it's worth the peace of mind. It is nice to see Google take extra protection seriously enough to include IP67 water resistance — the same as the Pixel 5a and 6 devices.
The back looks like glass, but isn't. It's just the kind of plastic that presents well, especially with the colors (charcoal, chalk, and sage) that also mirror the other Pixel 6 phones. Flip the phone around to the front and a 6.1-inch OLED screen faces you with the same resolution as the Pixel 6 (not the Pixel 6 Pro). You lose out on a faster refresh rate, as Google cut it to 60Hz here, and I'm not clear as to why, given 90Hz would've clearly been possible.
Otherwise modest specs put the phone in clear mid-range territory, like 6GB of RAM, 128GB internal storage, and a 4,410mAh battery. You do get the same Google Tensor processor the other Pixel 6 phones have, so it is reasonable to expect solid performance, especially since that chipset powers the features that make a Pixel different from other Android phones.
Camera Features
It was great to see Google go with a totally different image sensor for the primary cameras in its two flagships, only to take it all back with the Pixel 6a. The main camera (27mm equivalent) uses the same 12.2-megapixel Sony IMX363 image sensor Google perpetually used going back to the Pixel 3. Apart from the cost savings, it comes off as another example of the company believing its software computation can squeeze out more out of the aging sensor.
That makes imaging results somewhat predictable, even more so when you throw in the 12-megapixel ultrawide camera (17mm equivalent), which is the same Sony IMX386 sensor equipped in the other two Pixel 6 flagships.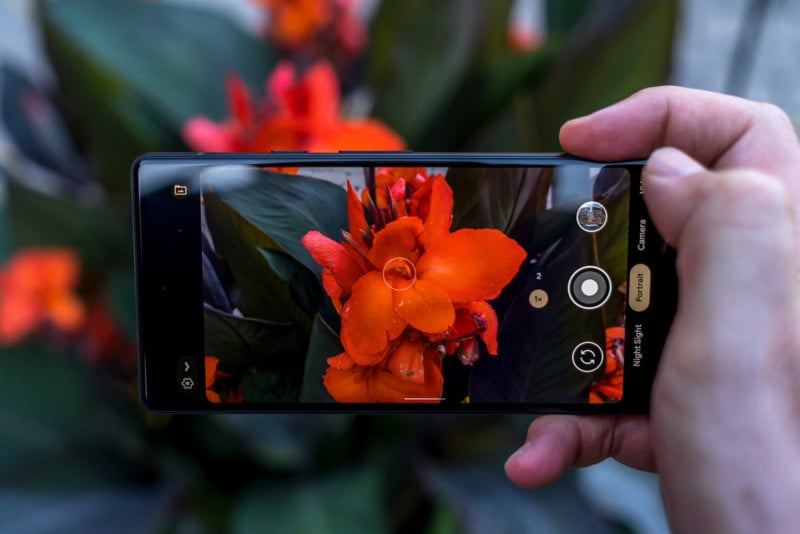 There is no telephoto lens, and despite the main camera being decent at a 2x digital zoom, it gets progressively worse once you go past that. Zooming in with this phone feels like going back in time to the Pixel 4 or 5. No real Super Res hybrid zoom here, unfortunately.
Software Features
Given the familiarity with the hardware, Google's software will be anything but confusing. The camera interface will look familiar to any Pixel user, including the highlights/shadow and color temperature sliders. The computation of rendering photos does its thing once you capture a shot, even if you don't know how Google is doing it.
Missing in action are the newer Motion modes introduced in the other two Pixels 6 models, like Action Pan and Long Exposure. You can shoot in RAW in any mode, but again, no manual mode of any kind, which I didn't expect would debut in a mid-range Pixel anyway.
What is cool is that Magic Eraser, the feature that can remove people and objects from photos, works just fine here. You'll find it under Tools in Google Photos and can try it with any photo you have in your Photos library, not just images you shot with the Pixel 6a. A newer one is Camouflage — exclusive to the 6a right now — which can automatically change the color of an object to better blend in with the rest of the image. For instance, if you have a photo devoid of a lot of color, yet there's a bright sign or object that stands out too much, this mode can completely desaturate or recolor it to better blend in.
Other Pixel basics also apply. Double-click the power button to launch the camera from a locked state. Do a flip gesture in the camera app to switch between the rear and front cameras. You can also make use of Quick Tap if you use a third-party camera or editing app and want to launch it faster. Set it up in settings to launch it by just double-tapping the back of the phone.
Image Quality
Main camera
I used the word predictable earlier, and for me, that's how the Pixel 6a shoots. Despite the older components inside, it is more than possible to get great shots with it. I would just caution that Google's software tends to more aggressively render images here than in previous phones. Coming from a Pixel 6 Pro to the 6a, I could see the contrast in what the software was doing. Google took a more subtle approach with the Pro, whereas here, it's almost like it ramped it up.
That's where shooting in RAW + JPEG can be really helpful. If you don't like Google's work, take care of it yourself in Lightroom or another app. The f/1.7 aperture does help in low-light shots, though image stabilization isn't as effective, which is probably why sharpening kicks in to mask any jitters in your hands. Dynamic range is solid, though detail loses a little of its dynamism compared to the Pixel 6.
The good news is Google's Real Tone is baked into the camera, capturing the varieties and subtleties of skin tones and complexions. That goes for both sides, meaning selfies with the front camera also handle them the same way.
Ultra-wide
There are no major surprises here considering how common this image sensor is for Pixel phones. I'm not sure results here are going to be all that different from the Pixel 6, except the latter does deliver better detail. I never got the chance to test and shoot with the Pixel 5a, but I suspect images compare closely to what the 6a can do.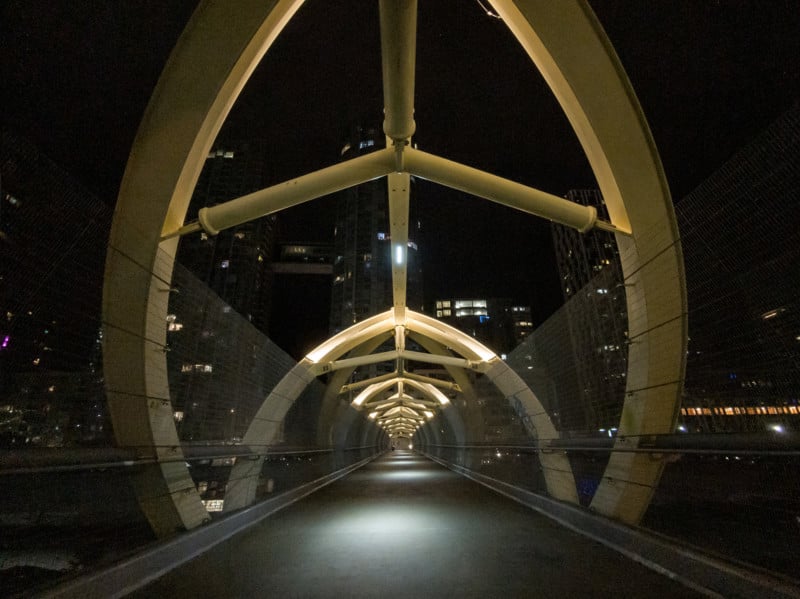 That's not necessarily a bad thing. Mid-range phones vary greatly when it comes to ultra-wide shots, especially when throwing in varying conditions. I've long liked Pixel phones for low-light shots with the ultra-wide, and felt pretty good about them here, too.
Video Features
Video has never been the strong suit for Pixel phones, but at least there are serviceable pieces you can use with the 6a. The Tensor chip helps process video faster, enabling pretty smooth 4K video with HDR+. While it won't beat what an iPhone 13 or Samsung Galaxy A53 will do on the video side, it's going to be fine if your needs are modest.
The usual features apply, like Cinematic Pan, Slow Motion, and Time Lapse. Shoot with both lenses in 1080p or 4K at 30fps or 60fps. Speech Enhancement only works with the front camera to better pull out your voice in a busier or louder environment. It works okay, though would be better when third-party apps utilize it, too.
A Reliable Mid-Ranger
Maybe it's a testament to Google's software pedigree that a phone like the Pixel 6a is a worthy choice as a competent shooter. This, despite using image sensors long in the tooth and not using the same primary one found in the other Pixel 6 devices. It's not that this phone will blow you away with how it shoots, it's that it handles most shooting situations well for the standards you might apply to mid-range handsets.
Competition, especially when you look beyond just Apple and Samsung, is tightening up in this space, and Google benefits from a lack of consumer knowledge about the likes of Vivo, Xiaomi, Oppo, and even OnePlus, to a degree. The Pixel 6a won't necessarily impress seasoned mobile photographers, but it probably would for those who don't typically go for flagships.
Are There Alternatives?
The iPhone 13 and 13 Mini certainly come to mind as alternatives, though you pay considerably more to go with either of them. For something less taxing on your wallet, the Samsung Galaxy A53 comes with similar specs and decent shooting capabilities, even if it does the same thing Google does, which is recycle the same camera components.
The Pixel 6 itself presents itself as a very viable alternative if you're willing to pay $150 more. That's still less than the aforementioned iPhones and within range of what a mid-range phone sells for. You get a better image sensor to shoot with, though you lose out on Camouflage as an editing tool unless Google updates the Pixel 6 and 6 Pro to get it as well.
Should You Buy It?
Yes, especially if you're upgrading from a Pixel 3a or 4a. This phone will feel like a bigger step forward compared to both of those. At $449, it's a pretty good deal for what you get, and ideal when you want good photos without needing the latest frills.
creditSource link