Headsets for Zoom, Cisco Webex Meetings
When Covid-19 pandemic hit the world, all the business (and personal) meetings went on-line via either Zoom or Cisco Webex.  To get the best and clearest audio transmission of your conversation, we recommend using a quality headset like the ones below.  Your voice is no further than a few inches from your mouth and typically the microphone on a headset is far superior in quality than the microphone built in on a laptop, tablet or a PC.  You can either use a corded headset or wireless.  We typically recommend wireless if you have the budget for the sake of freedom to move around the office and not have a corded tether to your desk.
Jabra Evolve2 30 UC Mono USB-A Corded Headset
Jabra recently launched the totally new Jabra Evolve2 30 UC corded headset, this amazing new addition to the Evolve2 Family comes with the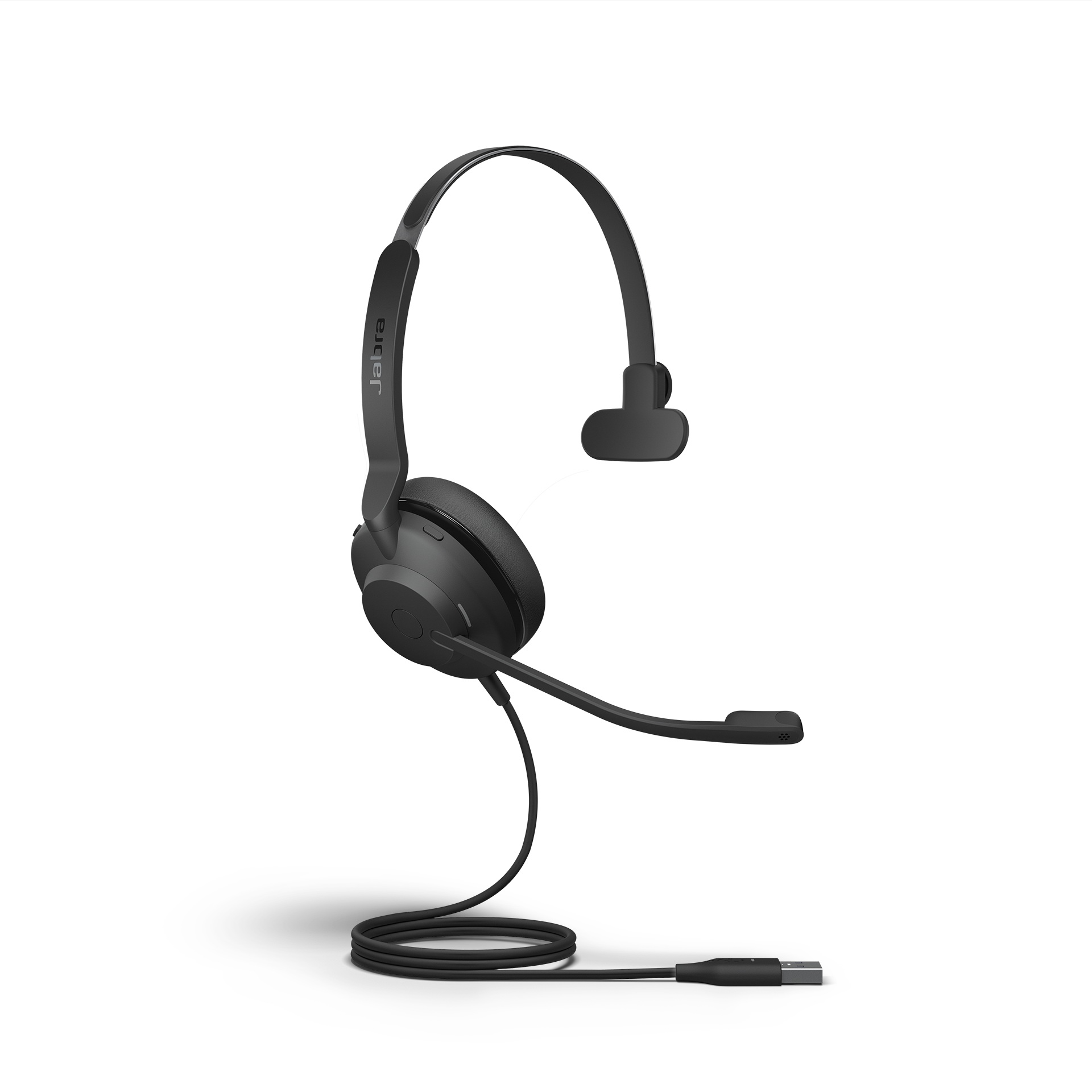 Jabra amazing well built quality, without compromising the budget. Jabra is really proud of having an option for people wanting the best in a contained budget. The Evolve2 30 comes in Mono and Stereo, built in volume controls into the headset and built in busy light in one side of the headset which is very convenient when you are working from home. Hands down, one of the best corded headsets for a daily use headset with your computer/Mac. Order yours HERE.
Jabra Evolve2 40 UC Stereo USB-A Corded Headset (staff favorite)
Jabra keeps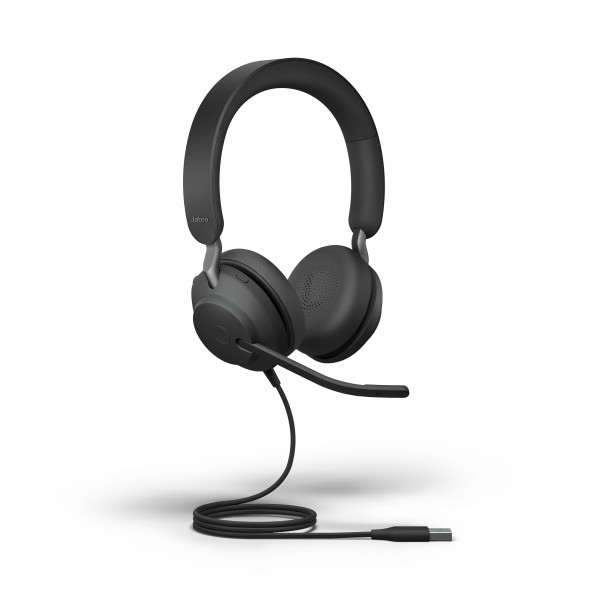 in with the Evolve2 40 UC, a well built headset with memory leatherette foam ear cushions, comfortable for all day use.  Large ear cups blocks out unwanted noise in the background.  Noise canceling microphone filters out unwanted noise for your customer.  It also has an automatic busy-light in both sides that is visible from any direction and turns on when the headset is active. Jabra offers noise canceling microphone with its innovate muting function by simply bringing the boom up, making it an amazing function as convenient for user. The Jabra Evolve2 40 UC comes in two models: USB-A and USB-C, making it a nice option for any computer or laptop.  Order yours HERE
Poly Blackwire 8225 USB-A Stereo Wired Headset
Poly , formerly known as Plantronics brings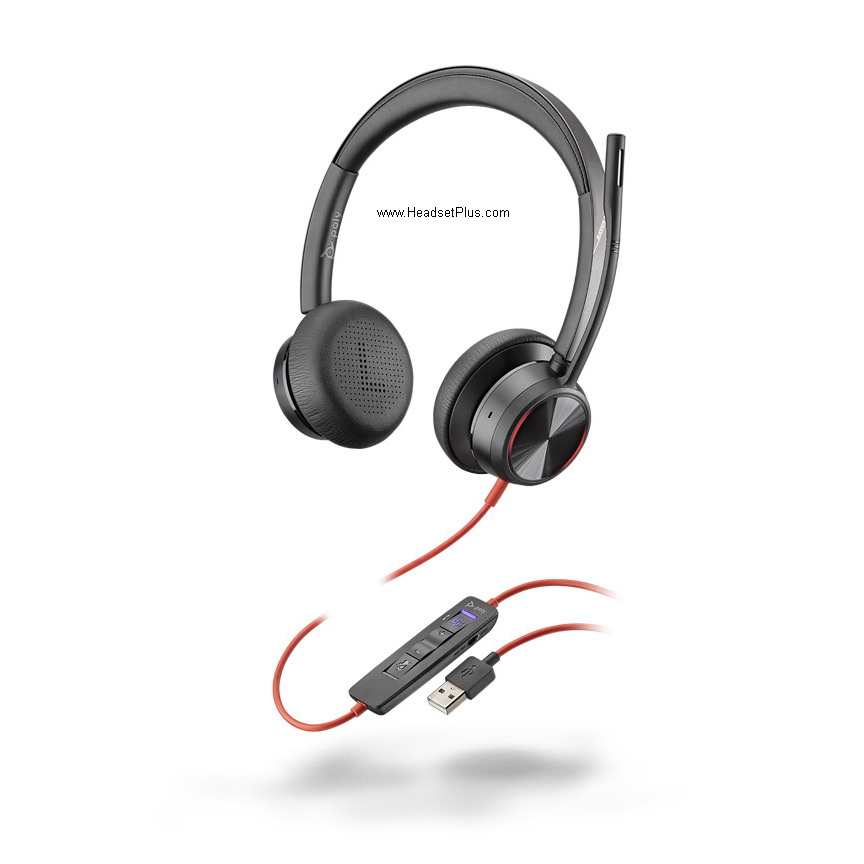 to the table the new Blackwire 8225 USB-A with a flexible noise canceling microphone boom. Active Noise Canceling with 3 settings to optimize what you can hear when using the headset. Built-in LED busy light that helps to let people know when you are in a call. Volume control with mute function that allows you to answer/end calls and depending on the application, allows you to put a call on "hold".
Jabra Speak 410 USB PC Speaker Phone UC version
Jabra offers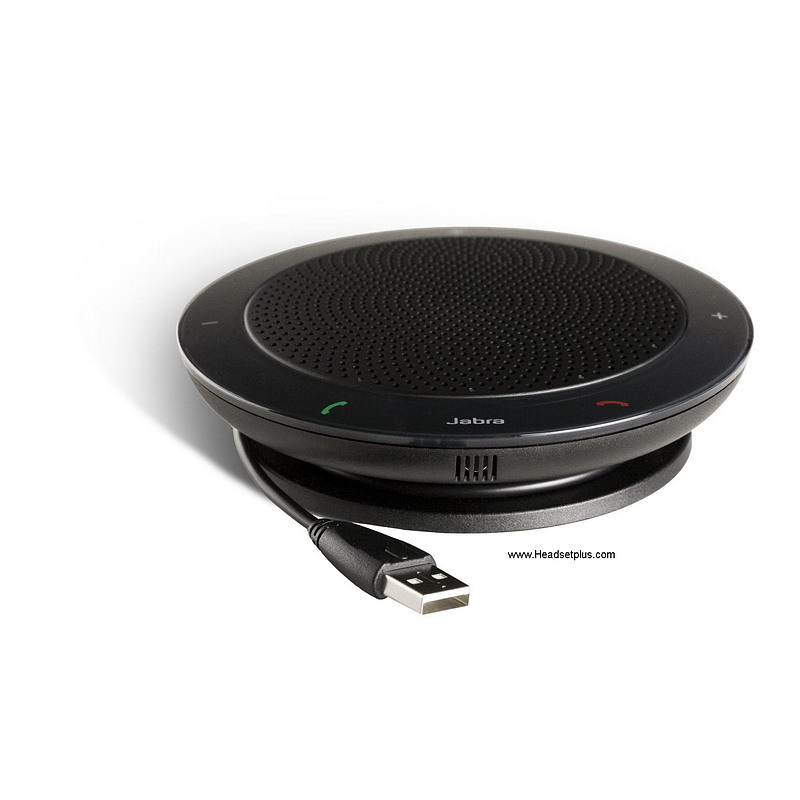 the Speak 410, that is the entry level for speaker phones compatible with any computer by simply plugging it thru the USB port. With an amazing 5′ in diameter size, makes it a portable option and with its travel case. Jabra Speak 410 offers full integration with corded Jabra headsets by the 3.5 mm port that offers quick privacy, even in an open office environment. Speak 410 offers true wide band sound for crystal-clear conversation.
Jabra Speak 710 UC USB/Bluetooth Wireless Speakerphone
The Speak 710 UC is an amazing
option for wireless speaker phone, can be used as a speaker phone on your computer using the Jabra Link 370 dongle or pair directly to your cell phone via Bluetooth. This unit is the perfect for conference of up to 6 people, with a talk time of up to 15 hours. Once touch feature that allows to pair 2 Speak 710 together for full stereo and true fidelity sound for calls and for music. Making a portable option to be used in any place, comes with folding stand, that allows to place the speaker phone in different positions as needed for your Zoom meeting.
Poly Sync 20+ USB-A Bluetooth Wireless Speakerphone, MS Teams
Poly comes into the speaker phones game with the Poly Sync 20+, which is a nice wireless Bluetooth speakerphone, designed for small groups of 6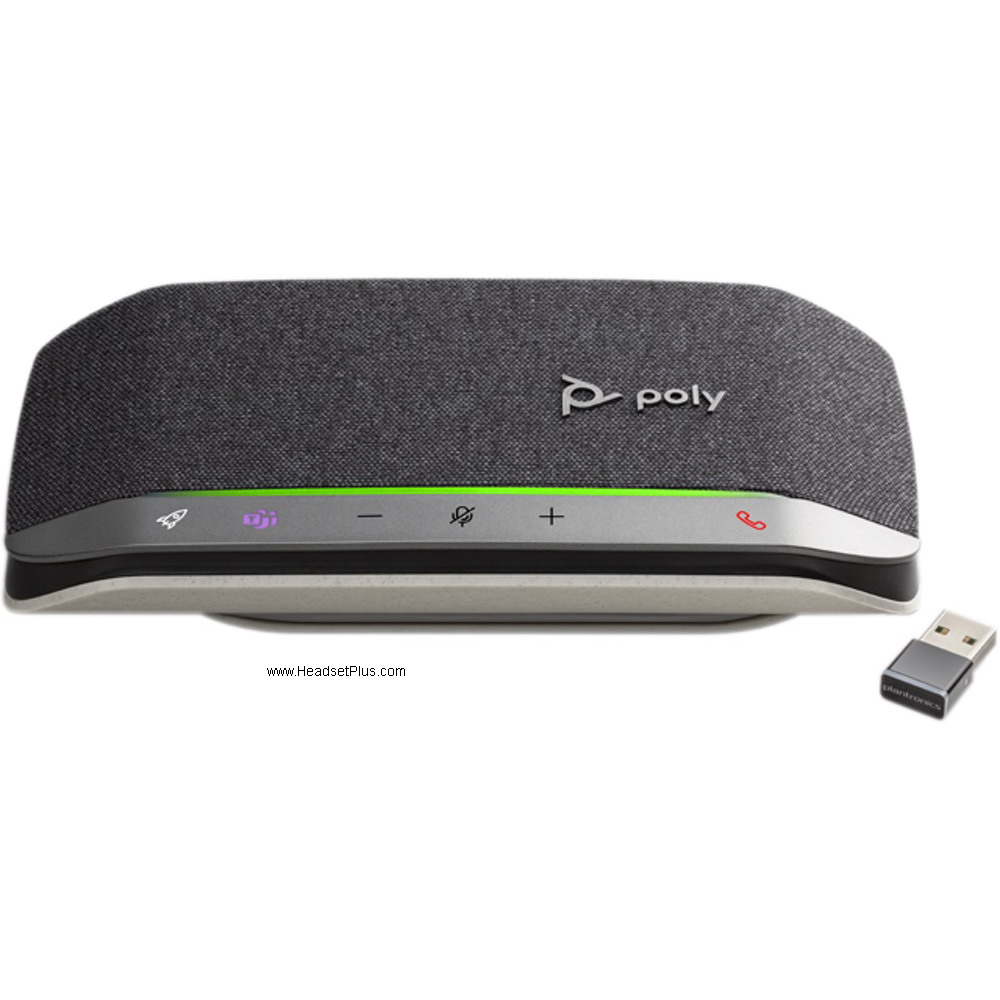 people or less. Comes with its respectively USB adapter (BT600), that allows you to use it with any computer or can be paired with any smart phone or tablet as well. the Sync 20+ , offers a battery time of up to 20 hours when fully charged, plus the convenience of being portable and for the same reason, comes with IP64 certification, against dust and spills resistance, touch sensitive controls that light up in a nice and elegant design. 3 directional microphones that allows to pick up the speaker's voice anywhere in the room, so you can move around without having to talk to the device directly. Microsoft Teams Certified and with dedicated key that allows you to launch it with a simply touch. Get yours HERE.
Plantronics Savi 8240 UC USB Wireless Headset
Recently launched, the Savi 8240 UC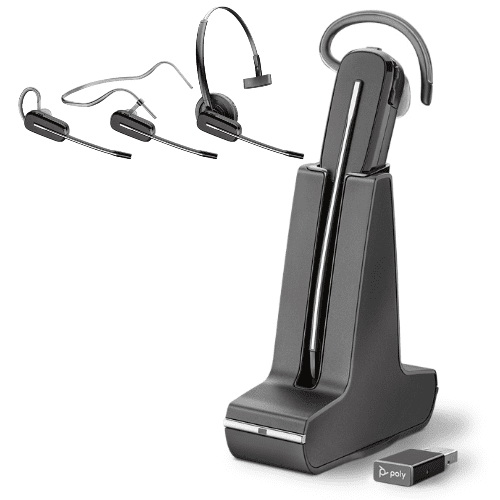 USB headset offers up to 7 hours of talk time and 30 hours of standby. Being a convertible style, the 8240 offers all the wearing styles, over the head, behind the neck and over the ear, making it a nice option for people that need to switch wearing styles. With a range of up to 300 feet on DECT 6.0 thru the D200 USB-A adapter included. Noise canceling microphone, volume controls with mute and answer/end call with a simply tap. Order yours HERE.
Jabra EVOLVE 65 UC Stereo USB Bluetooth Headset
Jabra offers the Evolve 65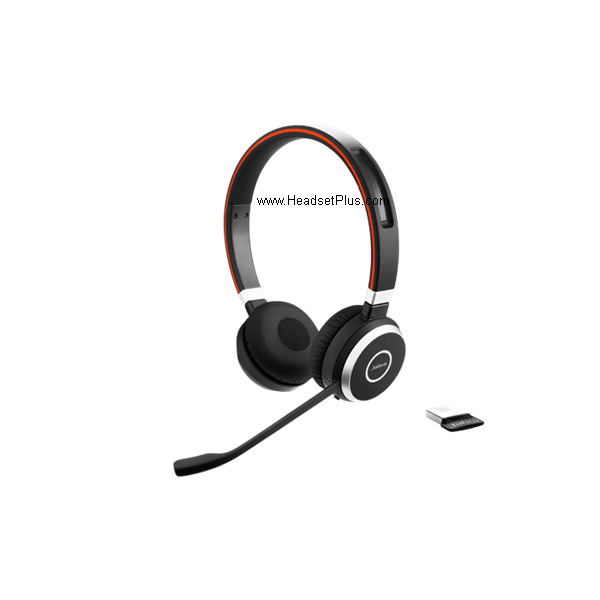 Bluetooth wireless headset with Digital Signal Processing, dual connectivity allowing you to use the headset with your computer with the Link 370 dongle (included) or your cell phone.  The same headset can be used both either device. The Jabra Link 370 offers a wireless range of up to 100 ft.  When the headset is fully charged, it has 10 hours of talk time and noise canceling microphone. Busy-light built into the headset allowing you to let people know when in a call, and so easy to use thanks to Jabra's "Plug & Play" Zoom headset installation.  Place your order HERE
Jabra Evolve2 65 UC Stereo Bluetooth USB-A Headset w/Stand
We have the newest addition from Jabra, the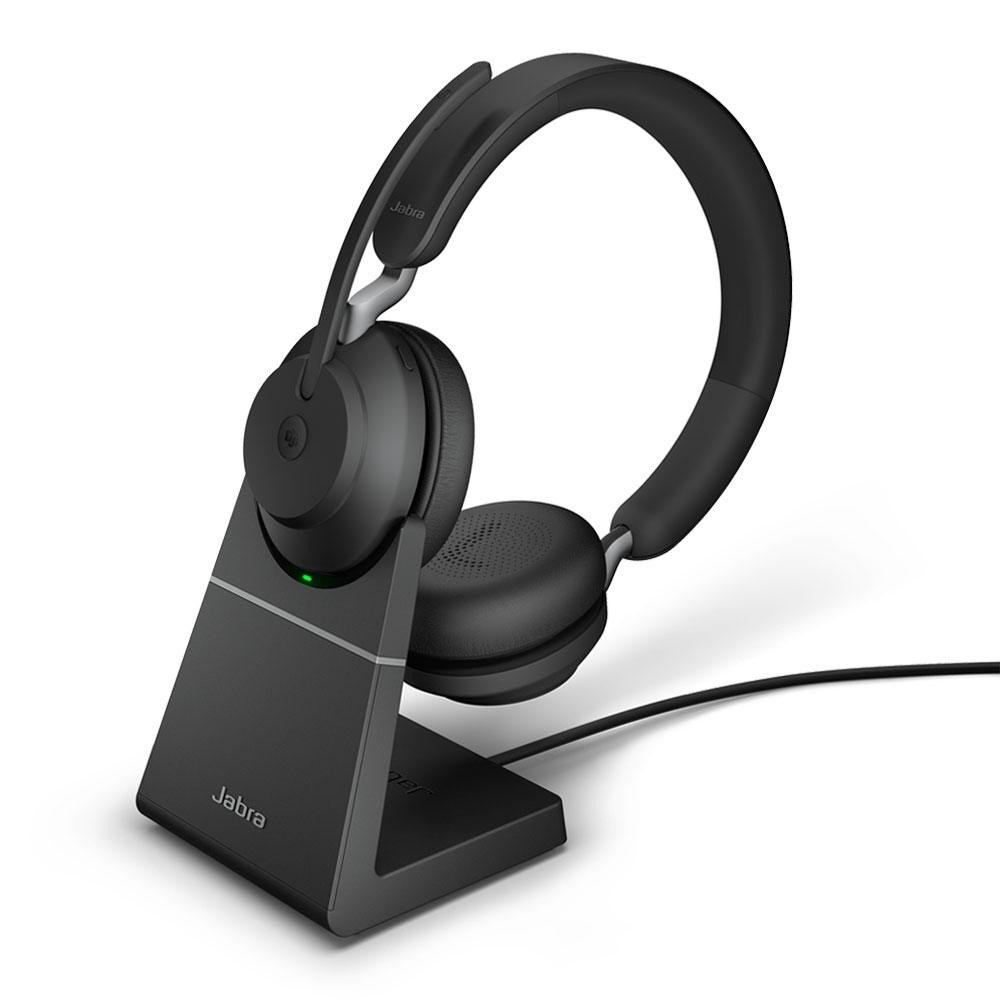 Evolve2 65 UC Stereo Bluetooth USB-A Headset w/Stand, and so far it is my preferred option for a Bluetooth headset. Offering the amazing talk time of up to 37 hours, beating by far the competition. Fast charging can be found in the Evolve2 65 that allows you to get 8 hours of talk by 15 minutes, memory foam ear cushions welcome the ears into a best sound quality available. Jabra's mute microphone by simply bringing the microphone boom arm up. The Evolve2 65 allows you to use it with 2 devices at the same time, so you can use it with your computer with the Link 380 and your cell phone at the same time. Order yours HERE.
Poly Voyager 4310 UC Bluetooth Mono USB-A Headset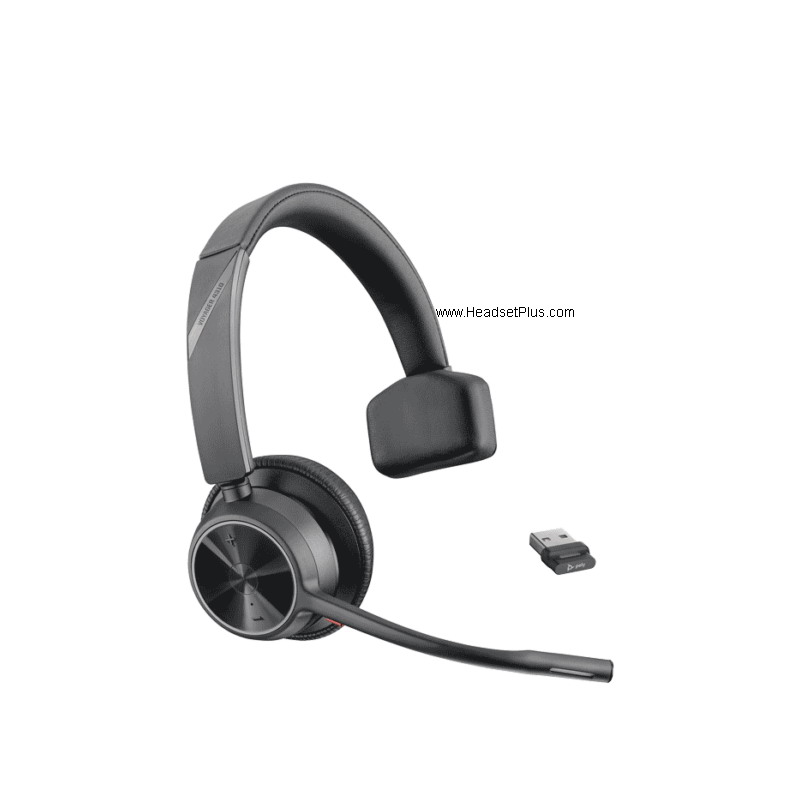 Poly offers the new Voyager 4310 as a new alternative for a wireless headset without breaking the bank. This is going to be the new entry level for a wireless headset, the Voyager 4310 works seamless with any soft phone application, thanks to its BT700 Bluetooth Dongle. Nice fresh design with a better paddling on the headband plus the well know Acoustic Fence Technology by Poly and offering an impressive talk time of up to 24 hours non stop, or can get up to 47 hours if is just listening in a single charge. Built in busy light that is really useful when working in an open office environment and can be used with your smart phone as well. Offering Voice over USB, which allows you to use the headset with any computer without the dongle by using the USB cable that comes with it and plug it in any USB port in your computer. Get yours HERE.
Poly Voyager 4320 UC Bluetooth Stereo USB-A Headset w/Stand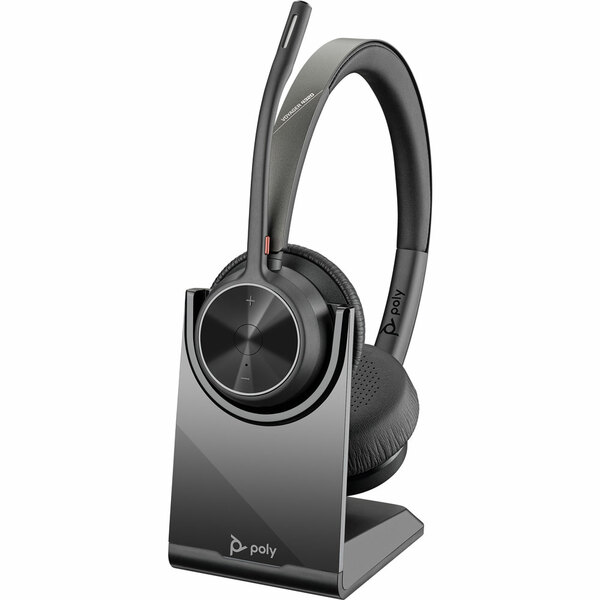 Poly offers the Voyager 4320, in a nice Stereo headset, with a comfortable headband and with a bendable microphone boom arm with Acoustic Fence Technology and built in busy light. Amazing battery standby time of up to 50days with one single charge. The Voyager 4320 comes with a nice stand that allows you to charge your headset by just resting the headset in the cradle, comes with a nice range of up to 160 feet, thank you to its BT700 Dongle that is Version 5.2, comes with a carrying travel pouch and comes with a USB cable as well, as it offers Voice over USB allowing to use the 4320 as a corded headset without compromising the performance of the microphone. Get yours HERE.
 Poly Voyager Focus 2 UC USB-A Bluetooth, No Stand (my favorite)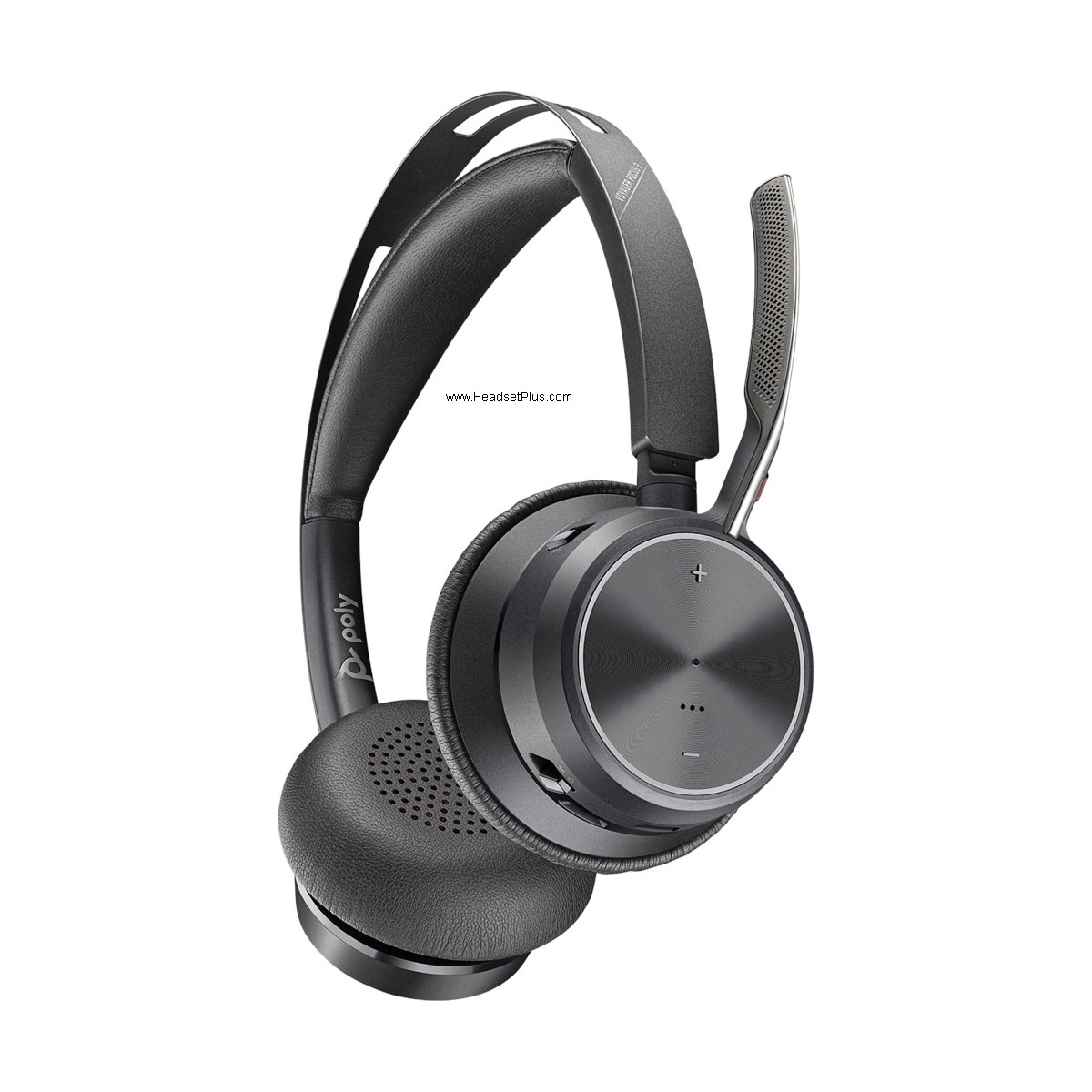 Poly offers its new Voyager Focus 2 with a really comfortable headband that allows the user find a comfortable position wearing it. The Voyager Focus 2 has the new Digital Hybrid Active Noise Canceling (ANC), with different levels of graduation that allows the user to choose how much ANC to use depending on the environment. Built in busy light that let the user know when in a call, a discrete boom arm with Acoustic Fence Technology and with muting function by swinging boom arm up or down, and allowing to be worn on either side, with a talk time of up to 19 hours in a single charge and with a range of up to 160 feet thanks to its BT700 Bluetooth Dongle. Call controls are found in the side, easy to use with the computer and with the cell phone. Get yours HERE.
Jabra Evolve2 75 UC Bluetooth Headset USB-A w/Stand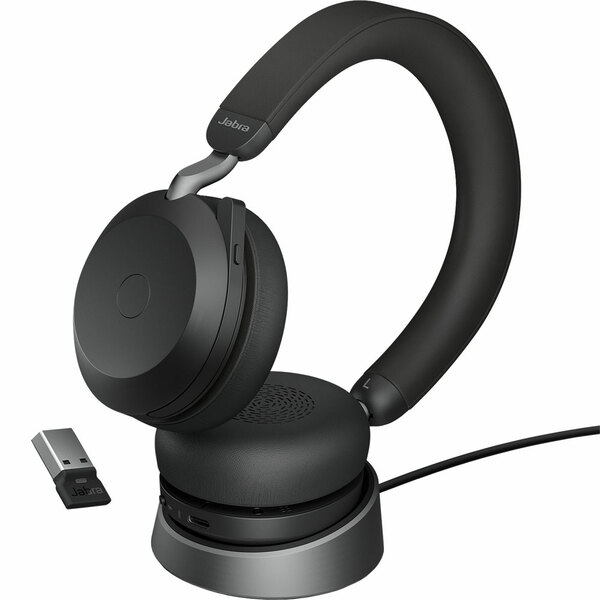 Jabra offers the Evolve2 75, in its second generation the new and freshly designed headset offers 2 different kind of memory foam in the earcups. This helps the headset to block most of the noises and helps it to keep it cooler when using for long periods of time. The Evovle2 75 offers the new Jabra Advanced Active Noise canceling with graduation levels. Built in Alexa that allows you to even control smart devices such as smart thermostats or smart bulbs from the headset. The Evolve2 75 has 2 modes now, The new Discreet Mode, that allows to use the headset as a bloomless mic headset with your cell phone and the Performance Mode with the arm down which meets Microsoft's Open Office requirements. Order yours HERE.

Poly Studio P5 USB-A Webcam
Now we jump in the video device, starting with the new Poly Studio P5 USB-A Webcam, this is the newest webcam from Poly, this is a high quality HD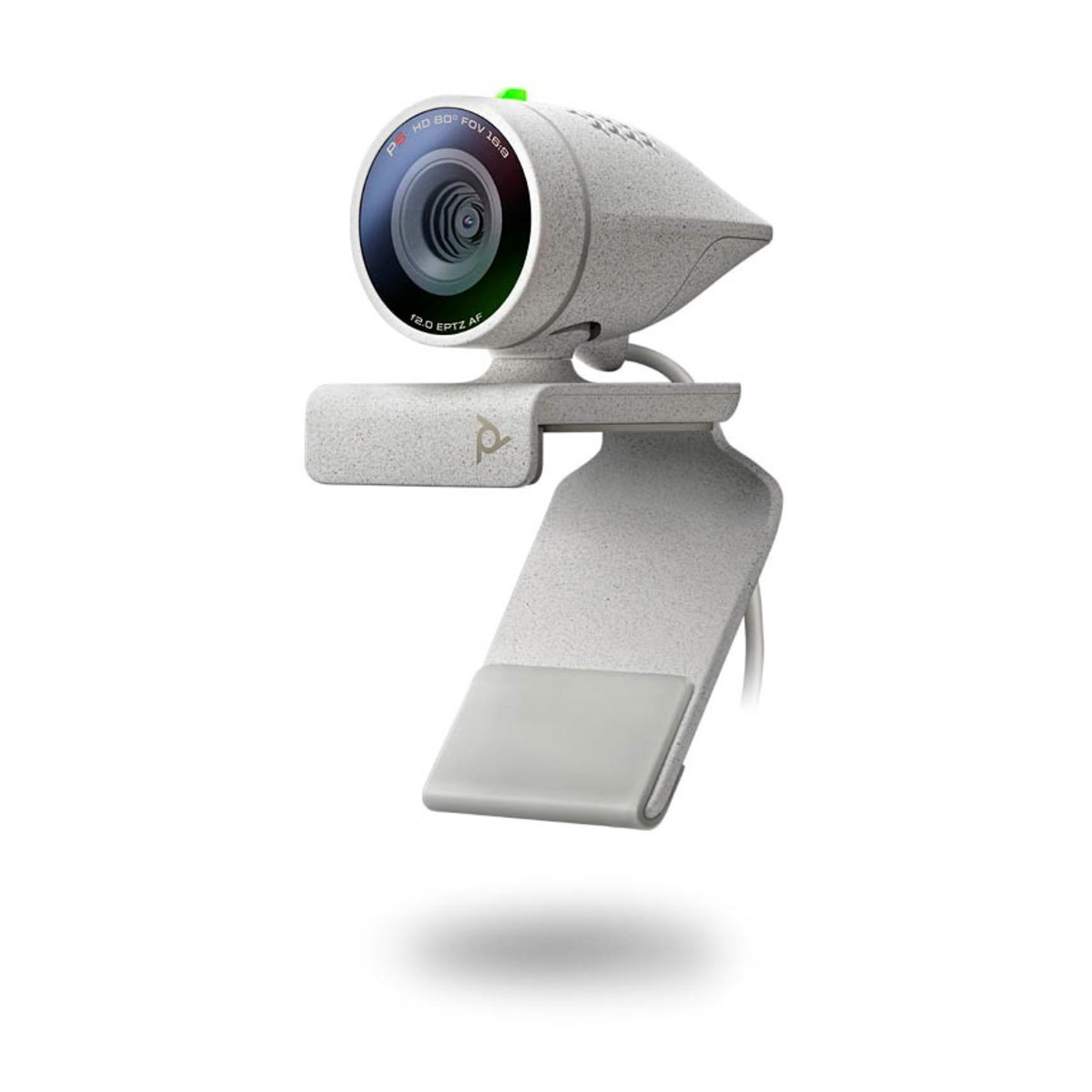 1080p web cam, excellent for small rooms and for single person use, with a 4X Digital Zoom. Small and compact design that allows you to take it with you anywhere. Easy to use thanks to its USB-A connectivity, integrated privacy shutter that allows you to block the lens for privacy concerns. A nice feature of this webcam, is that the back of the webcam has a built in USB-A port, so meaning that you don't loose a USB port when using this camera, allowing you to plug a USB headset if want to. Get yours HERE.
Poly Studio P15 Personal Video Bar
On our next step in video solutions, we have the brand new Poly Studio P15 Video Bar, this is a nice option for bigger rooms, the Studio P15 is an Ultra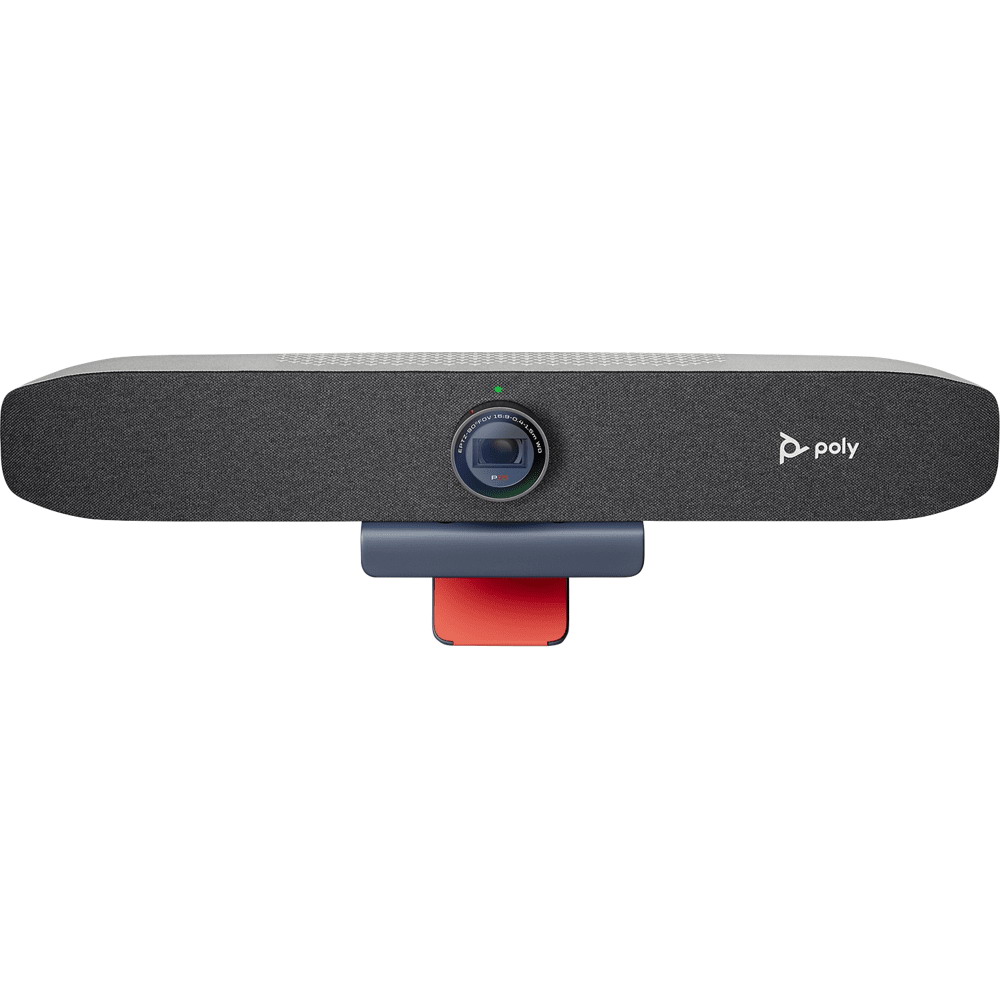 HD 4K quality camera, with smart automatic camera framing , allowing you to walk around the room, as the camera framing will adjust by itself on you, so no more need to stay glued into the chair. Poly Lens compatible and Microsoft Teams Certified as well. Can be used with either PC or Mac as it supports both platforms. Compatible with any applications that supports standard USB/UVC standards. Adjustments can be done thru the Poly Lens Desktop app, integrated privacy shutter, adjustable monitor clamp, Kensington security lock ready and Tripod ready. Order yours HERE.
Jabra PanaCast 180 Panoramic 4K Video Camera
Jabra steps into the game with its unique Jabra PanaCast 180 Panoramic 4K Video Camera, personally my favorite of the ones mentioned before, this camera is as tiny that you can take it with you in your shirt pocket, the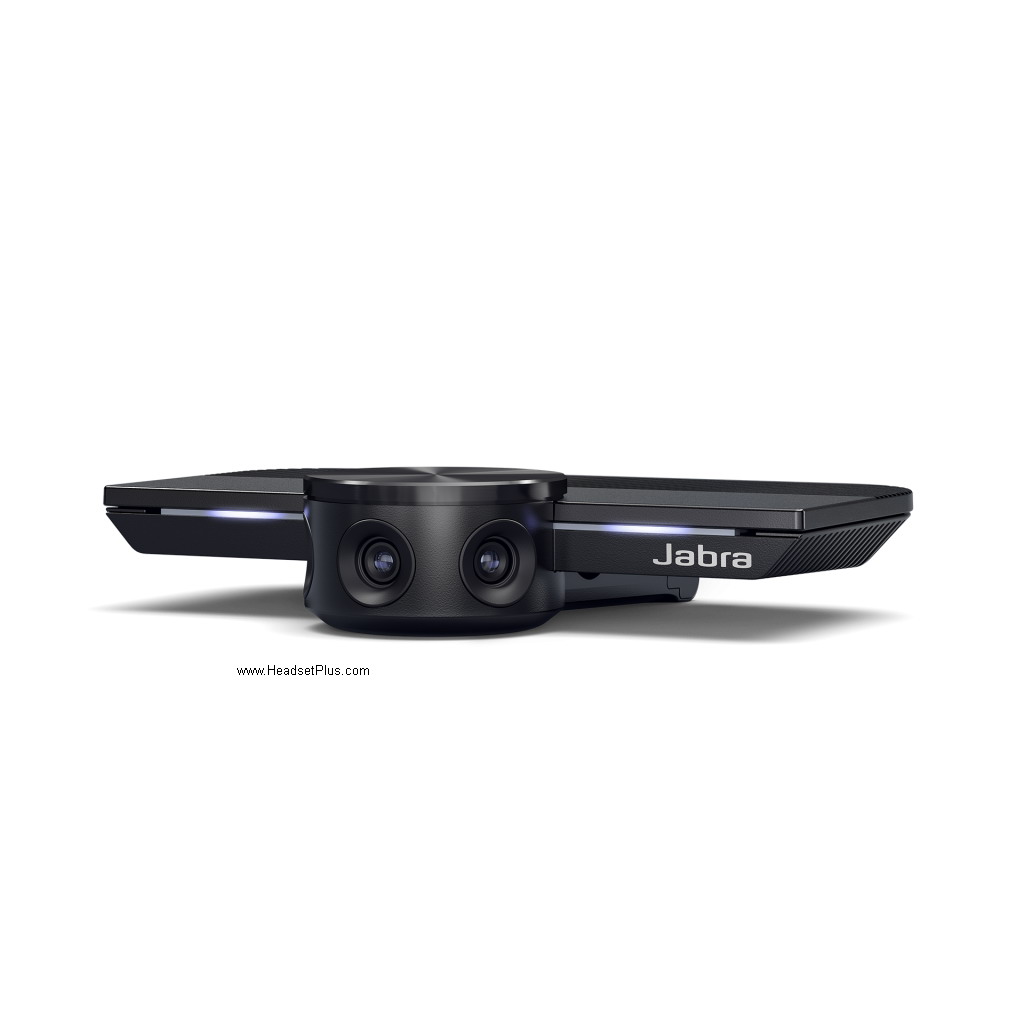 design is as slim as thin wallet. The PanaCast has 3, yes, you read right. 13 megapixel cameras, with a 4K quality, allowing you have a full view of the room without compromising performance. Easy setup , by simply Plug and Play in any computer. the PanaCast can be used with the table stand or its wall mount, one of the favorite options for colleges for distance learning. Compatible with any of the Jabra Speak , and advised as the sound quality of the microphones would be superb. Get your Zoom compatible camera HERE.
creditSource link