Article Content
A great cinematic percussion library is a must for composers writing for film & TV, gaming or any music that requires a powerful punch. Rhythmic content can drive a narrative and raise the level of emotional impact. A great percussion library can be used to create ominous textures using extended playing techniques and can provide the perfect transient sound to punctuate a scene. Or you can accentuate a melody or ostinato with pitched percussion using traditional mallets or tuned found sounds.
There is a plethora of virtual percussion instruments available featuring a huge variety of approaches, interfaces and sounds from traditional orchestral percussion to highly manipulated and processed sounds. What follows are some excellent choices (in no particular order) I encourage you to explore.
While Heavyocity has many instruments I've written about in the past, they really seem to excel in the area of percussion.
This collection of products includes four distinct percussion libraries: Ethic Drum Ensemble, Ensemble Woods, Ensemble Metals and Ensemble Drums. All of these samples sound incredible but what really makes these instruments invaluable are the interfaces. The stage view is a 3D graphic interface used to spatially locate drums on a virtual stage. It is elegant in design and intuitive to use. There are also step sequencers, full blown effects sections with sequencer-based modulation for each effect and a multitude of preset ensembles, multis and precomposed loops.
The Ensemble Metals library offers some very cool timbres created by striking metal kegs, railroad spikes, pipes, trash cans, horseshoes and more.
This library takes a more heavily processed approach to percussive sounds with tons of loops and arpeggiated lines that can instantly generate a groove. These are great for laying down a foundation on which to build a cue. The use of multiple step sequencers make it possible to generate something unique with just a few alterations.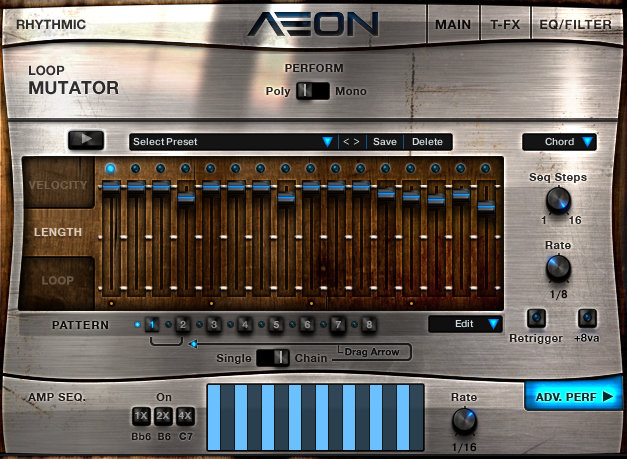 These use a similar stage view approach for spatialization as found in the Master Sessions libraries mentioned above. They include organic and traditional sounds with the possibility of heavy processing. Damage 2 added expanded versatility with easy key mapping functionality and improved interfaces.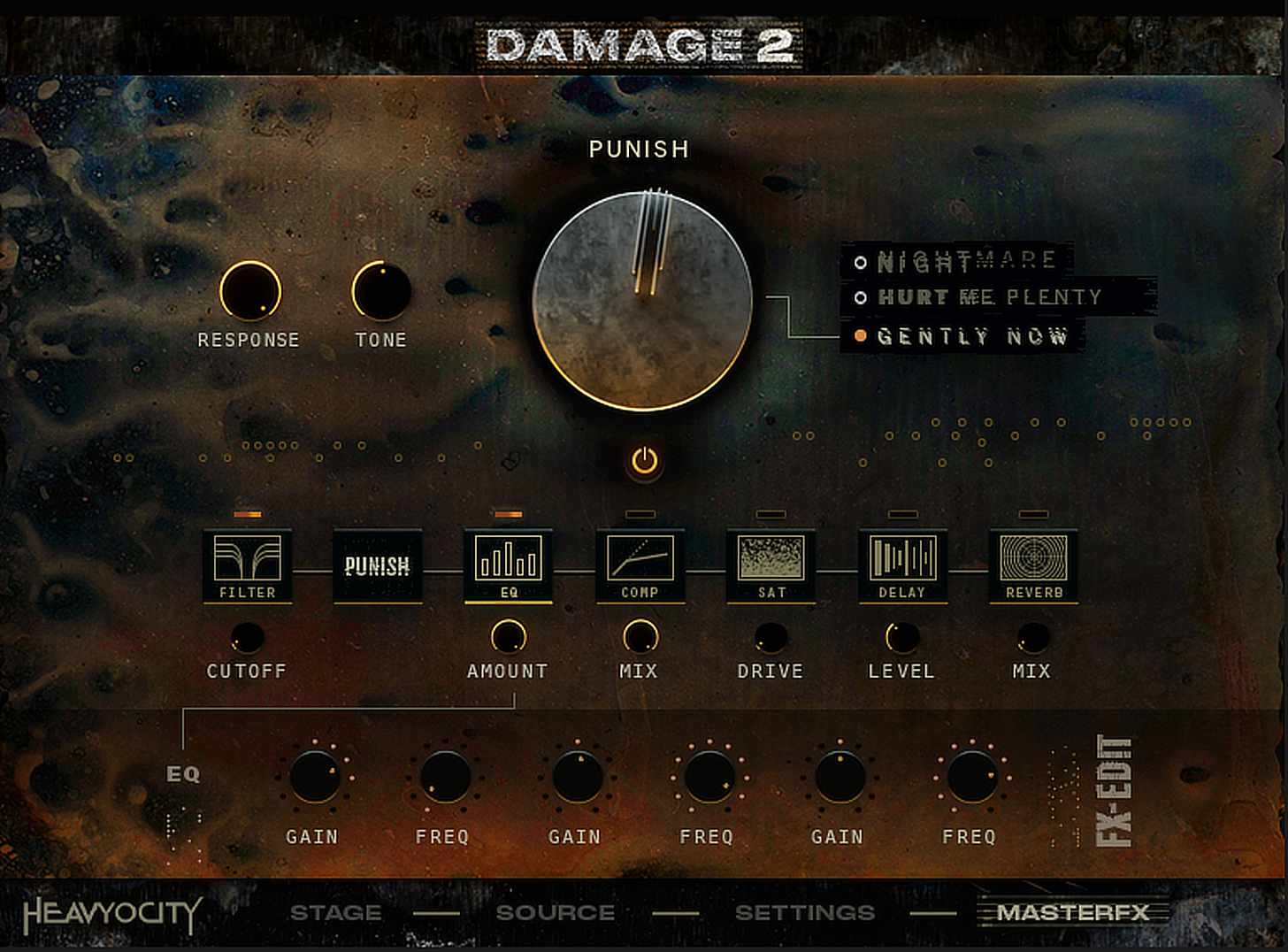 You cannot go wrong with Heavyocity instruments in general, but their percussive devices are particularly sweet!
Here's a full battery of pitched and unpitched orchestral percussion that will satisfy composers looking for a realistic acoustic sound. It also includes unpitched metallic samples such as thunder sheets, anvils, brake drums and a robust variety of percussive toys. There is a full collection of various diameter cymbals, snares and other drums. Every conceivable playing technique is available to accommodate the context at hand. Round robins, dynamic control and various mic positions will help you get a natural, organic result. This is a beautiful library of pristine sounds that will serve you well.

This library utilizes Orchestral Tool's free proprietary SINE Player plugin. This collection of hard-hitting drums is one of two signature series libraries endorsed by the A-list composer. It is organized into several categories including performance kits, bass drums, surdos, tupans, concert drums, Taye toms, marching band drums and custom drums. As with Berlin Percussion, the focus here is on acoustic realism. If that is your goal, you will not be disappointed.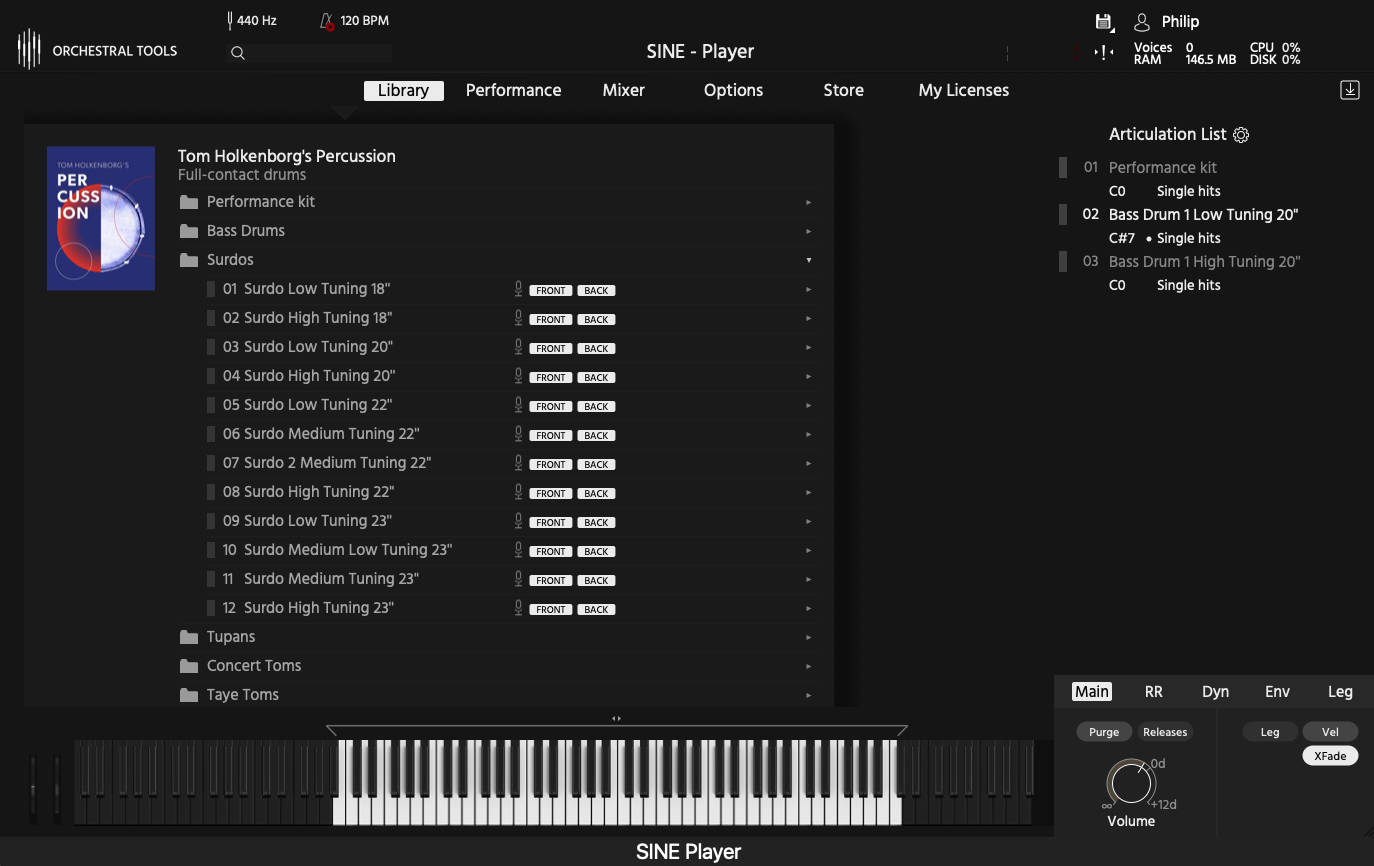 This is the perfect tool for creating percussive textures with orchestral-based percussion. You can instantly generate rhythmic clouds that might be perfect for arrhythmic interludes and extended transitions. It's a unique and useful approach to cinematic percussion.

This gives you access to the composer's percussive palette and "the professional edition also includes additional mixes by producer royalty Junkie XL, Geoff Foster, Alan Meyerson, and Steve Lipson, including CPU-friendly stereo mixes and 10 individual microphone positions."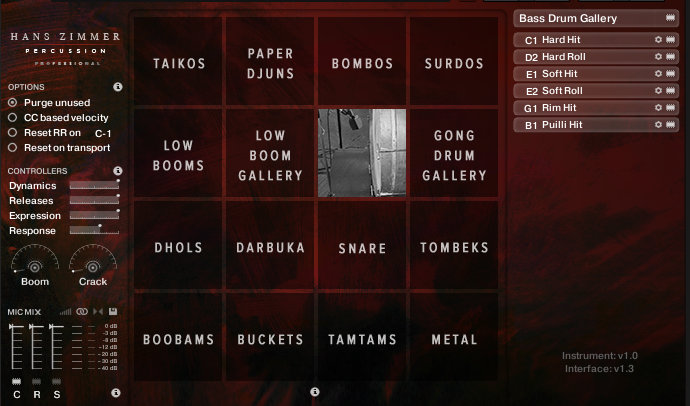 These are fantastic instruments with a unique approach that straddles the line between traditional orchestral percussion and found sounds.
Vital Series: Sticks has four independent step sequencers that can generate complex grooves with some unusual organic samples including things like steel brush on a cardboard box, timpani mallet on pie tin, nylon brush on glass dish and many more.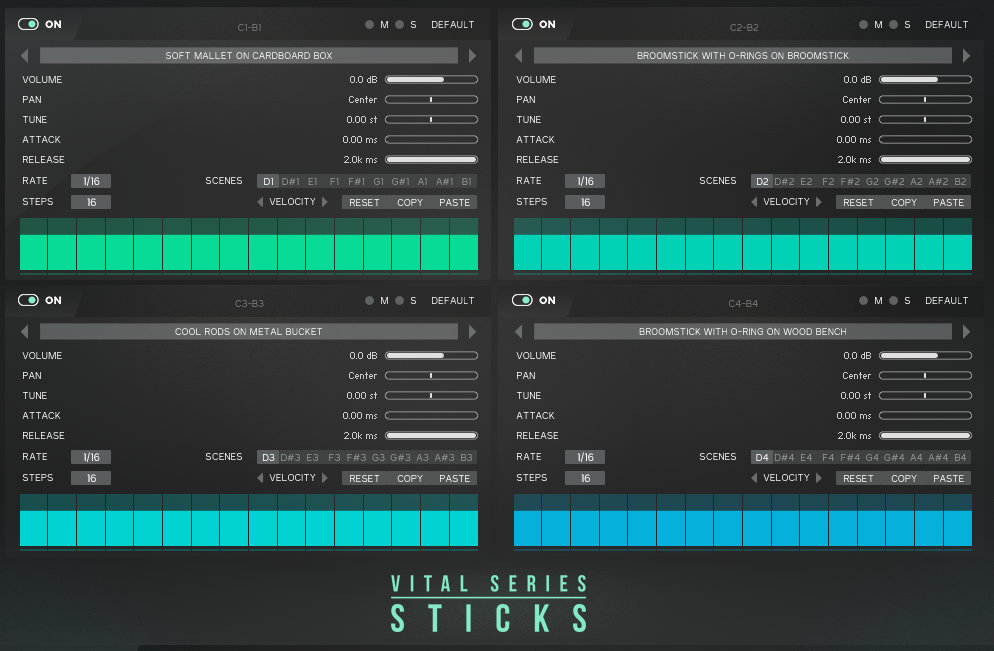 Vital Series: Mallets allows for the layering of up to eight pitched orchestral instruments: marimba, xylophone, glockenspiel, tubular bells, glass marimba, song bells, vibraphone and crotales. There are several mallet types, individual amplitude envelopes, mixing controls plus several onboard effects.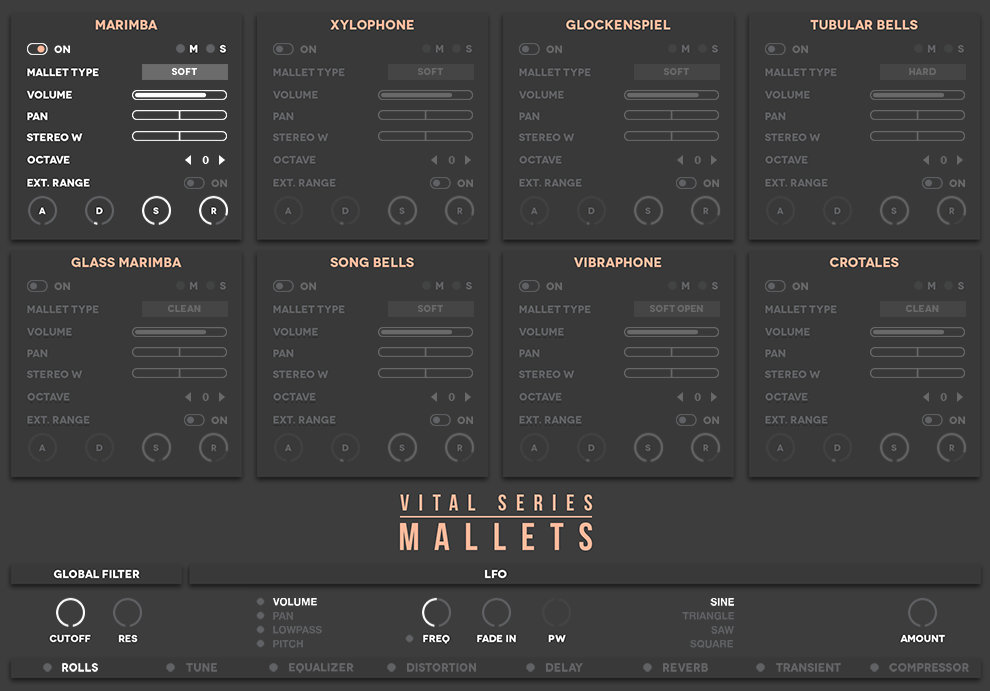 This instrument uses six independent step sequencers to drive a collection of standard acoustic samples as well as some electronic-based sounds that can be intertwined. There are genre-based presets like jazz, folk, urban and more. There is a mixing interface page but the sequencer view is where all the rhythmic magic really happens. There are great sounds and a unique approach with satisfying results.
ADVERTISEMENT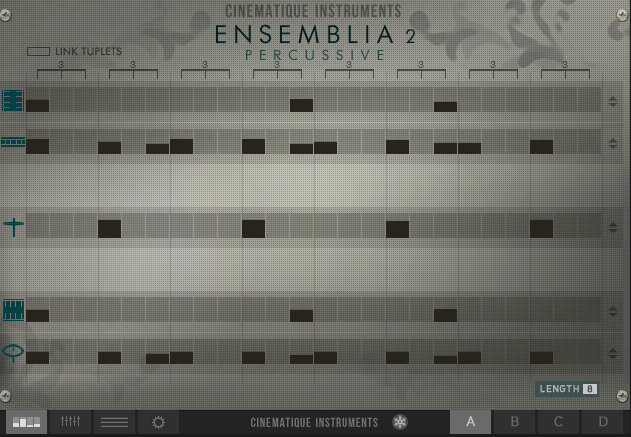 Here's another approach to organic percussion organized into three main interfaces: ensemble, hits and instrument. There are additional subcategories like low, mid and high that makes finding the right sound fast and intuitive. Traditional composers will appreciate the familiar notation view for generating grooves and ostinatos. This is a great library for creating motion, big cinematic hits and realistic human gestures.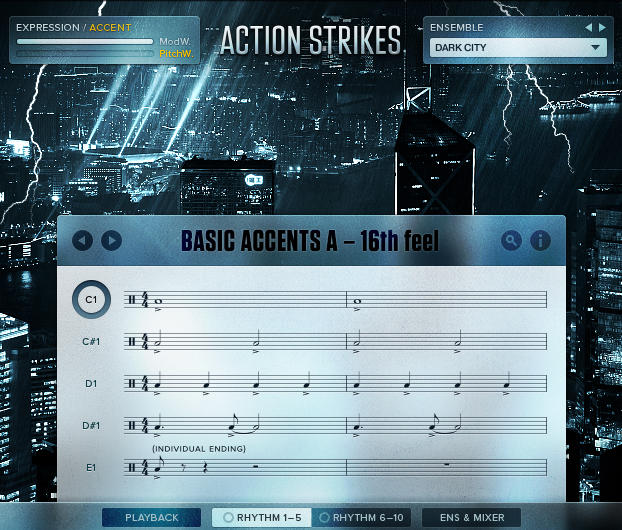 This offering by Red Room Audio is a library of unpitched acoustic percussion that includes oil drums, cymbals, anvils, metal sheets, silo booms, gongs and more. The world ensembles offered include taiko drums, surdos, frame drums and hand drums. The samples sound clean and crisp, and you are able to get a great overall sound quickly. There are four effects slots for those that enjoy tweaking and mangling. This is a great sounding library that can be useful in many contexts including trailer music.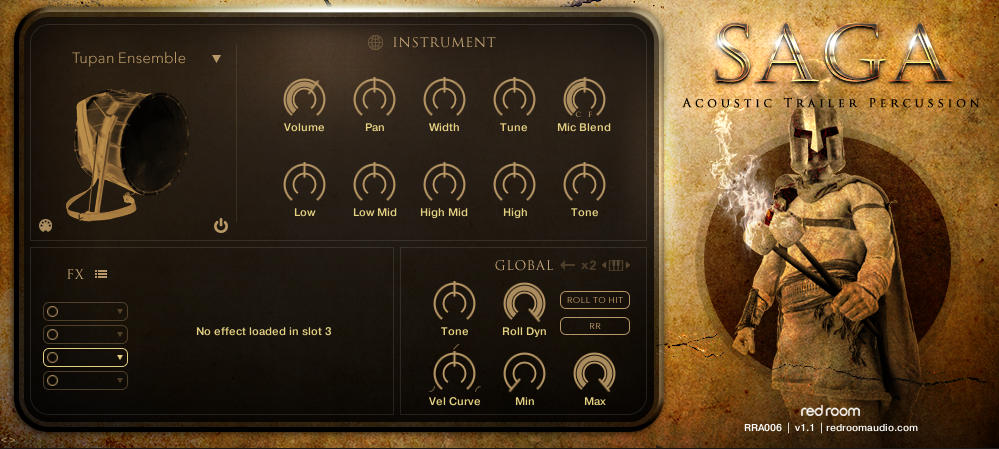 The power of this library by Laboratory Sounds is immediately evident right out of the box. It has a very unusual interface that has independent ADSR and pitch controls for the close and far mic mixes, and you can blend the two. In addition, there are two round robin modes (random and serial), a velocity curve response setting and a start sample setting so you can tweak these beautifully recorded samples to get just the sound you want. Categories include ensembles and solo percussion (big drums, metals, snares, etc.), impacts (anvils, sub-booms, etc.), and tick tocks for suspense building. Even if you already have a percussion library this one is so unusual it is worth adding to your arsenal.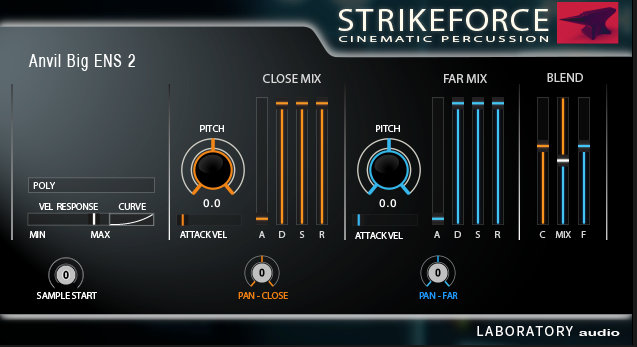 This is another awesome instrument from ProjectSAM, a developer that thankfully approaches interface design from the perspective of the composer. In this instance, one device allows you to add instruments easily by simply clicking one of the empty slots — effectively creating a multi within one Kontakt instance. There is a full battery of orchestral percussion to choose from including pitched and unpitched instruments. There are also articulation specific presets and preconfigured kits. The map page allows for easy customization and the GUI on the performance page includes 3D visualization, control of miking choices and spatialization. The are numerous help hints that appear for the more advanced options like routing that make referring to the manual practically unnecessary. If you need straight ahead orchestral percussion with all the traditional articulations in a user-friendly interface, this is a great choice!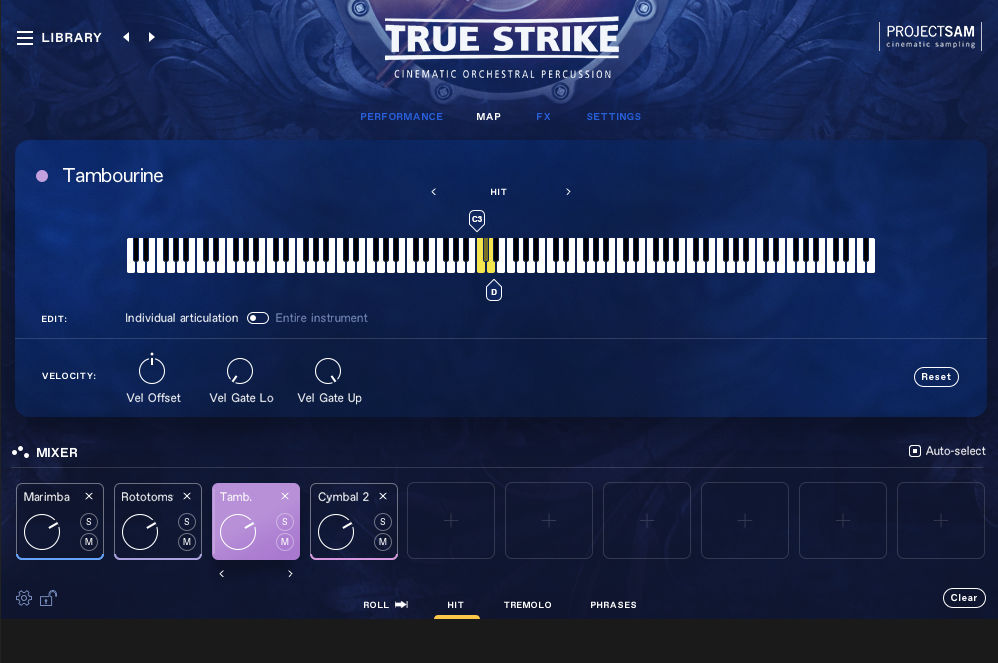 This percussion library from UVI is like no other. It loads in their hybrid device called Falcon or in the free UVI Workstation. It is truly unique in concept and design and the interface will appeal to experimenters and tweak heads immediately. It features seven independent voices, each with their own sequencers that can independently control velocity, pan, pitch, decay, reverb and delay. There is a dizzying array of presets and randomization possibilities that will take you on an engaging sound design journey as you search for the perfect combination of sound and rhythm. The sound categories include standard orchestral percussion with genre-based variations and configurations as well as found sounds & electronic content. If you think you already have what you need, think again. I think you need this too – you just don't know it until to hear it.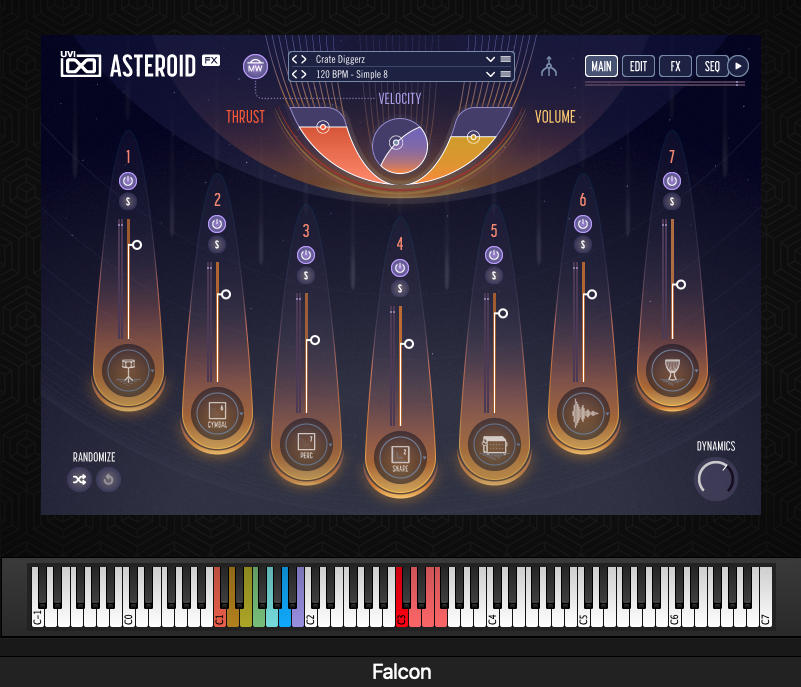 This library is organized into four main instrument categories: mutli patches, single patches, loops and sound design. My first impression of this library was really, really good! The interface is sparse, with a clean look that is intuitive and inviting. The ensemble drum multis include key switchable articulations and gestures. The crescendo rolls sound particularly good and every composer needs a nice roll every now and again. These samples sound organic and perfectly performed. The advanced settings give you more control over reverb and velocity curves. The loops, organized by tight/loose and 90/120 bpm presets are very playable allowing you to freely compose on the fly, and there is a nice array of effects as well. The sound design category has some excellent droning sounds that seem to be derived from percussive sample material. This is a great library for creating both groove-based, driving rhythms or ominous sound design.

Sample Logic has some great percussion libraries such as Rhythmology and M.A.P. that should be included here which I've written about in my article 11 Plugins for Adding Rhythmic Sophistication.
Other Choices Worth Considering
---
Check out my other articles, reviews, interviews, and my video tutorial series, Synthesis 101 available exclusively on The Pro Audio Files.
Follow me on
Twitter: @PMantione
Instagram: philipmantione
YouTube Channel
creditSource link